| | |
| --- | --- |
| The Reader | Spring 2006 Page 8 |
---
In memory of SCC music professor, Derrill Bodley, Nancy Mangum-Bodley has donated a copy of "September 11th: Families for Peaceful Tomorrows" to the library. Derrill wrote parts of this book. (Check LOIS for call number and availability.)
.
* New SCC Faculty Publication *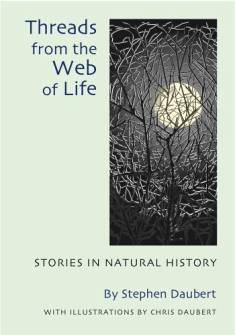 Threads from the Web of Life: Stories in Natural History, by Stephen Daubert, with illustrations by Chris Daubert. Vanderbilt University Press, 2006. (Check LOIS for call number and availability.)

Chris Daubert, SCC professor of art, and his brother, Stephen Daubert, a molecular biologist at the University of California, Davis, collaborated to produce this remarkable collection of 16 stories about ecological processes and survival in the wild.

New Books in Brief
These titles are located on the second and third floors of the library. Please ask at the reference desk if you heed help finding them. All books and media are listed in LOIS, the library catalog. See the SCC Library New Book List for many additional new titles. The New Book List is now searchable by author and title!

Dancing at the Dead Sea: tracking the world's environmental hotspots. Alanna Mitchell.
GF75 .M58 2005
Alanna Mitchell picks up where Darwin left off, "examining not just the origin but also the ultimate fate of our world."

Freedom is not enough: Black voters, Black candidates, and American presidential politics. Ronald W. Walters.


JK1924. W343 2005
Ron Walters traces the history of the Black vote since the Voting Rights Act in 1965, and shows why passing a law is not the same as ensuring its enforcement.

So help me God: the Ten Commandments, judicial tyranny, and the battle for religious freedom. Roy Moore with John Perry.


KF373.M66 A3 2005
Chief justice Roy Moore maintains that government must acknowledge the God upon whom America's moral principles were founded.

Math word problems demystified. Allan G. Bluman.


QA63 .B58 2005
So how may hours can a diesel engine run on a 600 gallon tank of fuel if it uses 7/8 of a gallon per hour? Your students can use the self-paced strategies in this book!

Unearthing the dragon: the great feathered dinosaur discovery. Mark Norell; photography and drawings by Mick Ellison.


QE861.9.C62 N67 2005
Mark Norell, a leading U.S. paleontologist, recounts the story of fossil discoveries in China and how these discoveries transformed our understanding of dinosaurs.

Evolution vs. creationism: an introduction. Eugenie C. Scott.


QH367. S395 2005
The director of the National Center for Science Education presents this methodical and comprehensive survey of the debate over the teaching of evolution.

Generation Rx: how prescription drugs are altering American lives, minds, and bodies. Greg Critser.


RM263 .C75 2005
Greg Crister asks, "How have powerful chemical compounds for chronic diseases become substances we feel entitled to, whether we need them or not?"
---
New Media
Request media titles at the first floor Instructional Media desk. All media is listed in LOIS, the library catalog.
Frontline: Tax Me if You Can.
KF 6297.5 .T39 2004

Tax shelters, one of corporate America's biggest hidden profit centers in recent year, have become so lucrative over the past 50 years that the effective corporate tax rate has fallen to half its average, costing $180 billion a year. FRONTLINE provides an inside look at how big corporations and wealthy individuals cut their taxes with intricate tax shelters, and investigates the role of blue-chip accounting firms in these secret deals.
.
Addicted to OxyContin: A 48 Hours/MTV Report.
HV 5822 .O99 A4 2004
Until recently, OxyContin didn't even exist. Today, the DEA says abuse of this drug is growing faster that the abuse of any other prescription remedy in decades. This 48 Hours investigative program highlights two three individuals affected by the drug.
.
What the Bleep Do We Know?
PN 1997 .W47 2004

Embark on a life-changing journey with a woman who tumbles down a metaphysical rabbit hole. Her mid-bending voyage through the worlds of science and spirituality includes revelations by quantum physics experts and playful animation.
.
| Index Spring 2006 |
| Quiz | Reserves | Library Instruction | Library Experience | eBooks | ID Cards | New Materials | Databases | DE Barcodes | Turnitin | Forgotten Words | Web Sitings | Library Links |