| | |
| --- | --- |
| The Reader | Spring 2006 Page 10 |
---
Distance Education: Library Barcodes Available by Mail
Most SCC students pick up a student access card and activate it as a library card in person, when they first come to campus. But many distance education students rarely come to campus. How will they get a library card number so they, too, can access important library services online?
Online and telecourse students can now request a library barcode card number online by filling out the SCC Library Electronic Access Request Form. A library card number will be emailed to the student within a few days. The number remains active as long as the student stays enrolled within the Los Rios District.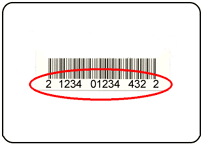 This barcode number gives the student instant access to databases stocked with thousands of full text newspaper, magazine, and journal articles. Students can also use their card number to read online reserve material, renew books online, and request books from other district libraries.
| Index Spring 2006 |
| Quiz | Reserves | Library Instruction | Library Experience | eBooks | ID Cards | New Materials | Databases | DE Barcodes | Turnitin | Forgotten Words | Web Sitings | Library Links |