| | | |
| --- | --- | --- |
| The Reader | | Fall 2007 Page 2 |
---
LRC staff welcome a new Dean this fall. Dr. Rhonda Rios Kravitz joined SCC this July, leaving the Sacramento State University Library where she had been Head of Access Services since 1990. Rhonda's leadership record includes unionization, student advocacy, diversity, equity, recruitment and retention of faculty of color, and women's equity issues. Her research interests include education equity and accountability efforts for social justice. She holds a D.P.A. in Public Administration from the University of Southern California, an MSLS in Library Science from Simmons College, and a BA in Humanities with minors in Chemistry and Ethnic Studies from Sacramento State University.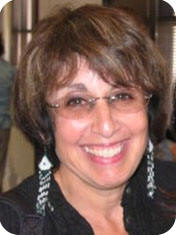 Among Rhonda's several publications, we note some library-eye-popping titles: "Libraries, the FBI, and the USA Patriot Act: A Chilling History" (2003), The Power of Language/El Poder de la Palabra (2001), "Giving Birth to the Dream: Realizing a Multiethnic, Multiracial State," (2001), "Anti-Terrorism Legislation and its impact on Civil Rights and Immigration," (2001), and "Battling the Adobe Ceiling: Barriers to Professional Advancement for Academic Librarians of Color" (2000).
Leadership roles have included Interim Director of the Joe Serna and Isabel Hernandez-Serna Center, President of REFORMA, Chair of the National Association for Chicana and Chicano Studies, and delegate to the 41st Commission on the Status of Women of the United Nations. Rhonda has received the Dolores Huerta Activist Award from the Freedom Bound Center (2004), Students First Award from the Associated Students at Sacramento State (2004), Faculty Excellence Award from El Concilio de Estudiantes de Sacramento State (2003), and the Excellence Award, Northern California FOCO of the National Association for Chicana and Chicano Studies (2002).
Condensed from http://www.csus.edu/sernacenter/about/dir_rios-kravitz.htm.
| Index Fall 2007 |
| New Dean | CC Rankings | ARTStor | Books | Lib. Instruction | Popular Reads | One Campus | New Media
| Media Sale | Info. Comp | Tutoring | Writing Center | Online Learning | Podcasts | Stats | LRC Links |