| | |
| --- | --- |
| The Reader | Fall 2006 Page 9 |
---
Need a Tutor? Bring a Friend...
...to the Learning Skills and Tutoring Center on the first floor of the Learning Resources Center. It's more fun to study with a friend, so come in and sign up for tutoring together.
"
Be not too tame neither, but let your own discretion be your tutor: suit the action to the word, the word to the action.
"
William Shakespeare
Walk in or make an appointment for tutoring in any of these subjects:
| | | | |
| --- | --- | --- | --- |
| Math | Chemistry | Sign Language | Statistics |
| English | History | Foreign Languages | Psychology |
| Biology | Philosophy | Political Science | More! |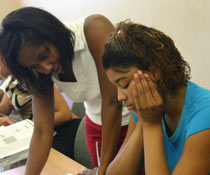 The Learning Skills and Tutoring Center also offers Study Skills Workshops on Time Management, Proofreading, Test Taking, Academic Honesty; Math, Vocabulary/Spelling and other topics. And it's all FREE to SCC students.
"
An old tutor of a college said to one of his pupils: "Read over your compositions, and wherever you meet with a passage which you think is particularly fine, strike it out.
"
Samuel Johnson
Come into the Learning Skills and Tutoring Center for a schedule, or log onto the Tutoring Center website.
See you soon!
| Index Fall 2006 |
| Quiz | Library Instruction | JSTOR vs. J-Kwon | Save Paper! | Student iMail | Reserves | Free Wireless | Need a Tutor | Book Group | Library Links |