| | |
| --- | --- |
| The Reader | Fall 2006 Page 7 |
---
Textbooks = Reserves = Retention
It's no surprise that students who have access to their required textbooks are more likely to do their homework, keep up in class, and stay in school than their classmates who don't have texts. Not fixed rule, but it happens.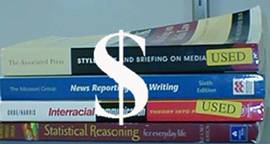 No surprise either that some SCC students have a tough time paying for textbooks. We're not picking on these classes; instructors choose the best textbooks for the course content, and all textbook prices are climbing.
| | | |
| --- | --- | --- |
| Math 100 | Beginning Algebra. Martin-Gay | $83.10 |
| History 300 | Western Heritage. Kagan | $83.20 |
| Spanish 101 | Saludos. | $95.70 |
| Economics 100 | Survey of Economics. O'Sullivan | $111.00 |
| Chemistry 300 | Introduction to Chemical Principles. Stoker | $85.95 |
SCC faculty, you can help.
Contact your publishers rep. and ask for an extra copy of your textbook to put on library reserve. Many publishers will provide a copy if the textbook has been ordered for a class. Please do this early; students need the books from day one.

Second, when the extra copy arrives, take it to the reserve desk on the second floor of the library.

Third, fill out the reserve book form to set the loan period. Submit the form and the book. There's no need to wait in line.
Thousands of SCC students use library reserve books to stay in school. The library spends more each year from a static book budget to put current textbooks on the shelf. Contribute your textbook and watch the library's circulating collection grow!
Questions? Email Yolanda Escobar, Mary Ann Robinson or Lorilie Roundtree. Lorilie can also answer questions about e-reserves.
Thank you!
The Library Staff and Learning Resources Committee
| Index Fall 2006 |
| Quiz | Library Instruction | JSTOR vs. J-Kwon | Save Paper! | Student iMail | Reserves | Free Wireless | Need a Tutor | Book Group | Library Links |